SHINING OUR LIGHT ON ART, MUSIC AND LANGUAGE ENRICHMENT FOR OUR CHILDREN
The annual Walkathon rallies and unifies the Saint Mary community in support of Art, Music and Language Studies for the children of our school. Thanks to donations collected by our students and sponsorships made by our benefactors, we can continue to enrich our curriculum with vibrant programs in these essential subjects.
The 20th annual Walkathon was held on Friday, May 20, 2022, Celebrating the "Art and Science of Medicine," and honored all those working to help and heal within health care and celebrate the many historical Philadelphia "firsts" in the history of medicine.
SAVE THE DATE
Our 21st Annual Walkathon will be held on Friday, May 19, 2023 and will recognize the 17 Sustainable Development Goals (SDG) of the United Nations. It will also celebrate a forthcoming commissioned artwork at Saint Mary representing SDG17, Partnerships for the Goals.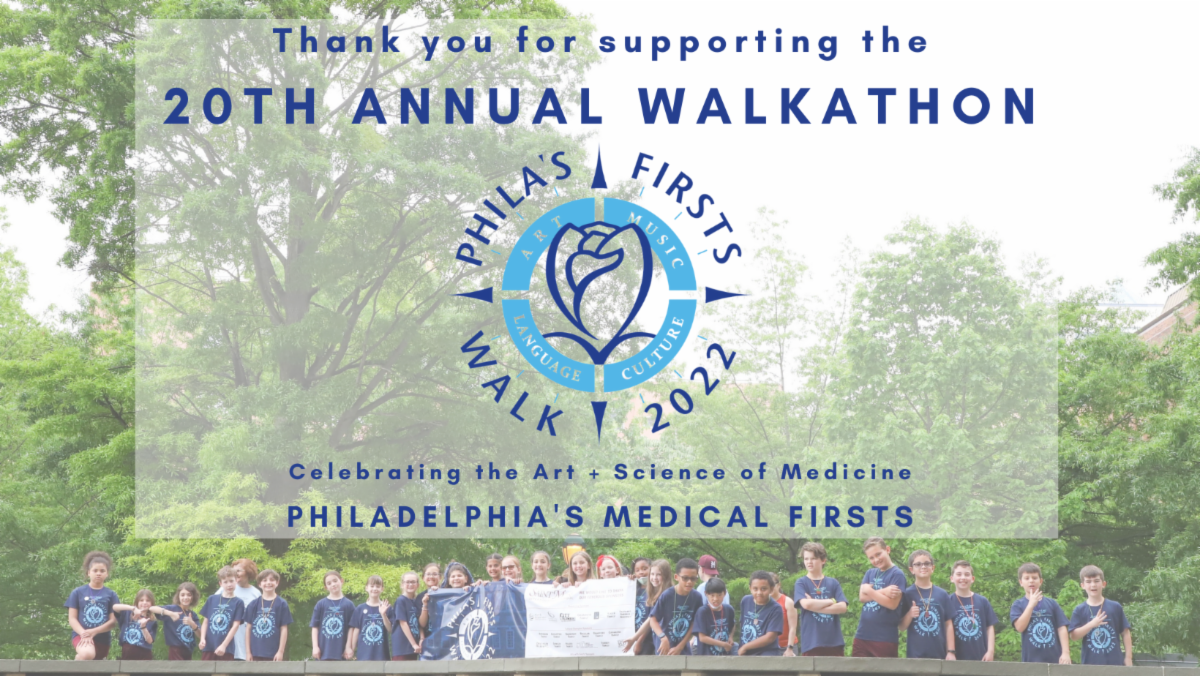 With the support of our St. Mary Community, the 20th Annual Walkathon raised over $53,000 in support of St. Mary Art, Music, and Language Enrichment Programs! Thank you! Please download our 2022 Walkathon Event Book below to view our list of sponsors and supporters.
We invite individuals and businesses to support the arts at Saint Mary by serving as a Walkathon sponsor or providing a donation. Sponsorships begin at $75, and each level includes an advertisement or personal message in the Walkathon event book. 
Online: To make a secure donation to support our students' Art, Music and Language Studies Programs, please click here. The deadline to sponsor the Walkathon is Friday, May 20.
Mail: Donations may be made payable to St. Mary Interparochial School and mailed to St. Mary Interparochial School, Fifth and Locust Streets, Philadelphia, PA, 19106
Please stay tuned for updated Walkathon sponsorship information for the 21st Annual Walkathon.
For questions about our Annual Walkathon, please email walkathon@saintmarys.us.